Xenon lamp aging box
>>>
Introduction
About product
This product is a test equipment that simulates and enhances weathering accelerated photoaging by using xenon lamp as a light source to quickly obtain near-atmospheric aging test results to evaluate the weather resistance of materials. Weathering test is an important means to screen and optimize the composition of products in the research and production process, and it is also an important content of product quality inspection. The application standards such as paint, plastic, aluminum-plastic plate, and automotive safety glass are required to be weather-resistant.
About company
Dongguan Qinda Equipment Co.,Ltd. is located at the second industrial zone of Dongguan City, Guangdong Province.
We are a professional factory focusing on test instruments field with 34 years experience. The testing instruments:Paper package test instrument, Tensile testing instrument, Printing testing instrument, Adhesive tape testing instrument, Bags & luggage test instrument, Environmental Test Instrument. As our company has high-tech technology and professional engineer team, so most products have reached the international advanced level and sell well all over the world.
>>>
Product pictures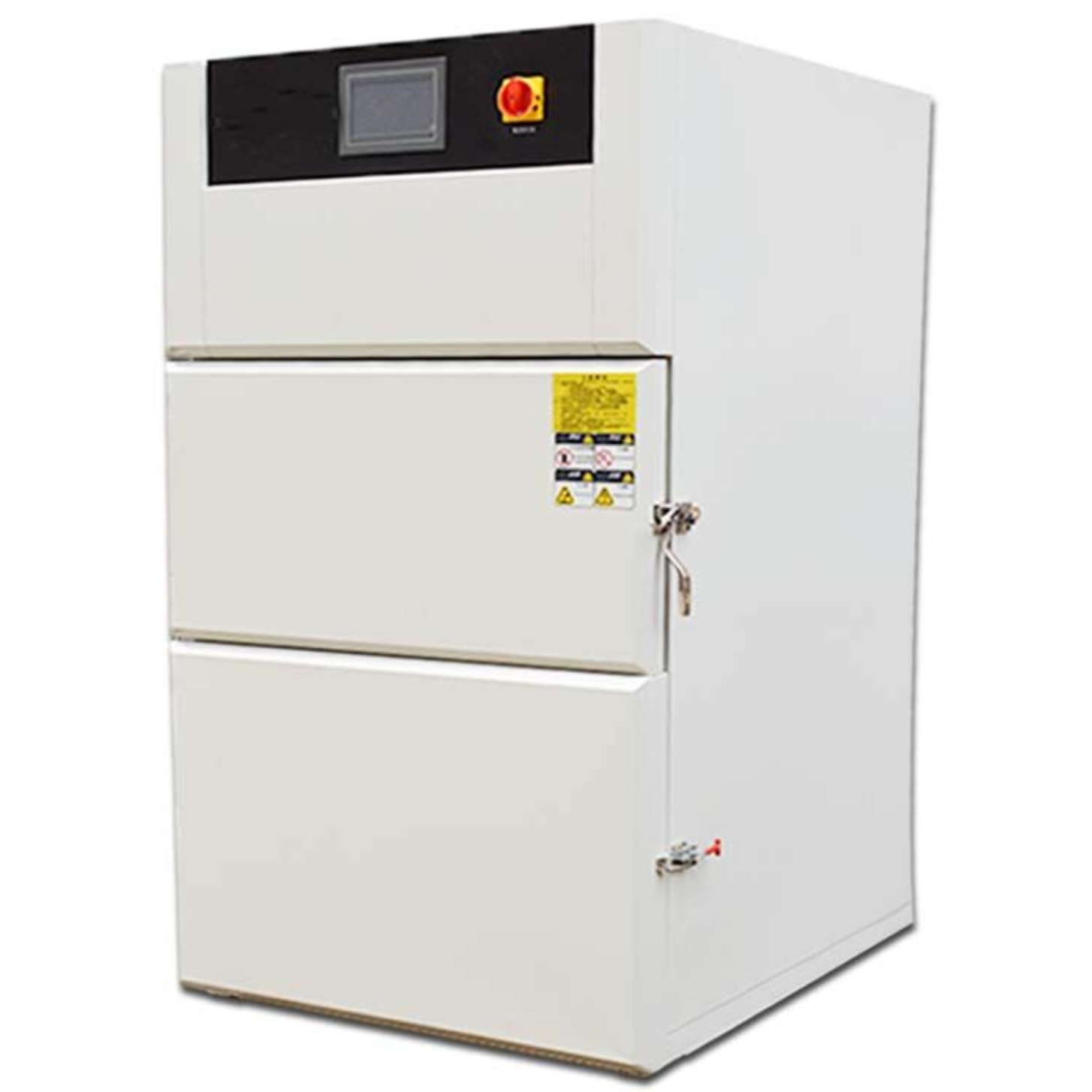 >>>
Parameters(
we support customization parameters)
1. Power supply: AC 220V/50Hz
2. Xenon lamp power: 6Kw% air-cooled xenon arc lamp
3. Heating power: 2KW; humidifying power: 2KW
4. The trigger operating voltage is 220V AC, current is 27±3A, trigger time is <2S, and the second trigger interval is >10min.
5. Blackboard thermometer: 63±3°C
6. Temperature range: room temperature +10 ° C ~ 80 ° C
7. Temperature fluctuation: ±0.5 °C
8. Temperature uniformity: ± 2 ° C
9. Humidity range: 80 to 98%
10. Humidity fluctuation: ±3%
11. Humidity uniformity: ±3%
12. Sample sample holder rotation speed: 1r ~ 5r / min, 360o rotation
13. Test sample: 75×150 standard template
14. The distance between the sample holder and the xenon lamp is 350~782mm (adjustable)
15. Rainfall time: 0~9999 minutes, continuously adjustable
16. Light cycle: 0 to 99 hours and 99 minutes, interval (off) illumination is adjustable
17. Studio size: 600mm × 600mm × 600mm (deep × width × height)
18. External dimensions of the instrument: 1100 mm × 1250 mm × 1850 mm
19. Meet the corresponding standards of GB10485-89 and GB/T16422.2.
>>>
Features
1.Touch screen LCD
with curve display control system.
2.can switch between Chinese and English language control systems.
3.high-precision.
4.User-friendly menu interface.
5.Power protection ensure automatic record when power cut off.
>>>
Packing list
1 machine.
>>>
Why choose us
?
1.Novel design, convenience for use, excellent performance and elegant appearance,Stable quality, high precision,deeplytrusted by customers.
2. Excellent after-sales service:
a.36 month warranty.
b.we can help you fix your problem controller for free.
c.24 hour online quick reply and professional team to solve problems from customers.
d.offer English operation video and English instructions. We can also provide English video-con.
e.Free technical training for visiting factories
3.Commitment:
We will sign a letter of commitment while we sign the contract, which will improve your confidence to us.
4.Good Packaging:
Well wooden packaging/honeycomb box is safe and protective. Not only has good shock absorption, impact resistance, heat sealing, but also has the advantages of non-toxic, odorless, moisture-proof, and good transparency.
5.
Normally, we have standard products in stock. If no stock, delivery time is 15-20 working days after deposit receipt.
6.We are a professional manufacturer focusing on test instruments field with 34 years experience.
7.OEM is acceptable.
Please
feel free to contact us
any time if you have problems.